No-Churn Orange Liquor Ice Cream with Hazelnuts & Chocolate
This recipe is for the folks who don't own an ice cream machine and have zero plans to purchase one.
You are my people. I love the idea of homemade ice cream, but I hate having bulky kitchen machinery that gets used a few times a year, MAX. This recipe satisfies the desire to make homemade ice cream on a whim, no extra equipment necessary. No-churn ice cream should become your new go-to recipe to impress people with little effort.
Substitutions
Omit the orange liquor and this will be a simple vanilla ice cream base. Or, substitute your own liquor like bourbon, red wine, etc.
Mix-ins. Think of your favorite mom-and-pop ice cream shoppe, then think of the candy topping counter. Then pick your favorites and make your own yummy ice cream at home. You could mix in literally anything your heart desires.
Don't skip the setting step. That's the step where the ice cream sets up a bit before your mix in all of the goodies. If you skip it, and mix in right away, you'll end with up an ice cream version of "fruit on the bottom". Everything will sink down and that's no fun.
I think (fingers crossed) I've figured out a dairy-free alternative. I'm still recipe testing, so stay tuned!
No-Churn Orange Liquor Ice Cream with Hazelnuts & Chocolate
Jennifer Bravo
Published 08/14/2019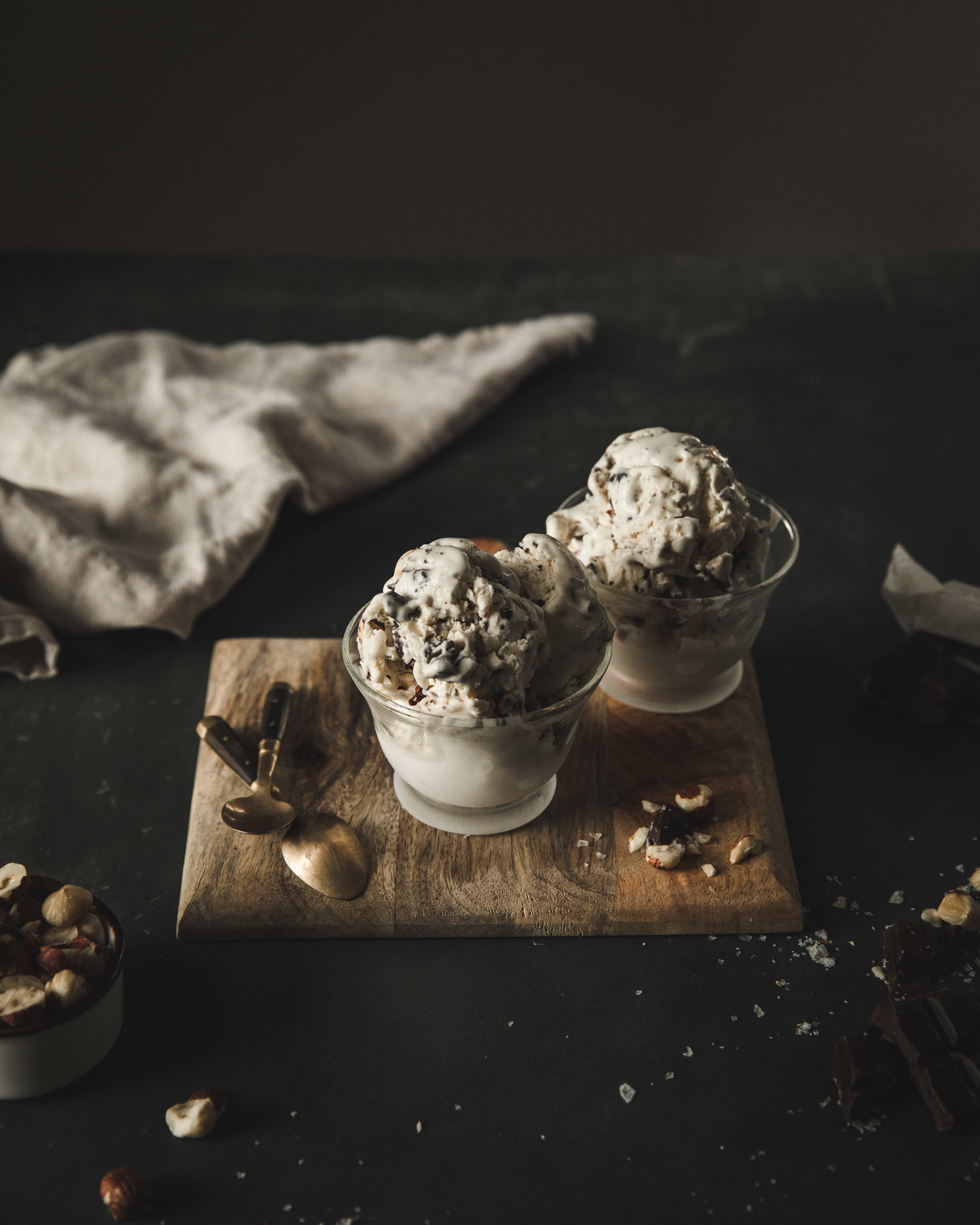 No churn ice cream is the easiest thing you'll make all week. Use whatever mix-ins you prefer and enjoy!!
Ingredients
14 oz. sweetened condensed milk
1 tsp. vanilla
1 tablespoon orange liquor
Pinch of salt
1 pint heavy cream
1 cup roasted then chopped hazelnuts
1 cup chopped 56% cacao chocolate
Flaked salt for garnish
Instructions
In a large bowl, mix sweetened condensed milk, vanilla, orange liquor, and salt. Set aside.
In a new large bowl, using a hand mixer on high speed, whip the heavy cream until stiff peaks form, about 7 minutes.
Carefully fold the whipped cream into the condensed milk mixture until well incorporated. It will lose a tiny bit of fluff, and that's okay!
Pour into a chilled loaf pan, cover with plastic and freeze for 2 hours or until set but mixable.
Mix 3/4 cup of hazelnuts and 3/4 cup of chocolate into the ice cream. Pour remaining 1/4 cup of each over top and sprinkle with a happy amount of flaked salt. Freeze overnight and enjoy!
Yield: 1 loaf pan
Prep Time:
00 hrs. 15 mins.
Cook time: 02 hrs. 00 mins.
Total time: 2 hrs. 15 mins.