Pasta with Easy Meat Sauce
This one comes together in about 20 minutes if you need it to!
Or of course, let it stew all day and that's beautiful, too. But, this one can and should be made in a pinch for another weeknight dinner win!
My secret weapon is in the noodles. Honestly. And that's because I specifically call for pipe rigate which is basically the love child of penne and shells, meaning you get the optimal meat sauce to pasta ratio in each and every bite. I'm obsessed with how much sauce gets stuck in the nooks. The best!!
Parmesan anyone? I love to freshly grate parmesan or pecorino over each plate. The texture is cloud-like and you can really pile it on without adding too much salty thickness, which I find happens with the store ground stuff.
Also, don't skip the parsley. Chop up a handful and mix it in at the end, then add a sprig to serve. It adds so much brightness that makes this dish perfect for transitioning seasons.
Substitutions/Recipe Notes:
If you wanted to make this vegan, use dairy alternatives, oil, and tempeh or mushrooms in place of the meat called for below!
Feel free to use any ground meat your family prefers.
I call for a ladle of starchy water in the recipe below - start with a little bit to add flavor and let the starch thicken the sauce, add more (like the full ladle) to thin it a bit if needed.
I'm not a huge crockpot user, and don't own an InstantPot, however I'd imagine this would be an excellent recipe to use in one of these devices! "Set it and forget it!". Whatever makes your life easier, friend.
Pasta with Easy Meat Sauce
Jennifer
Published 03/28/2019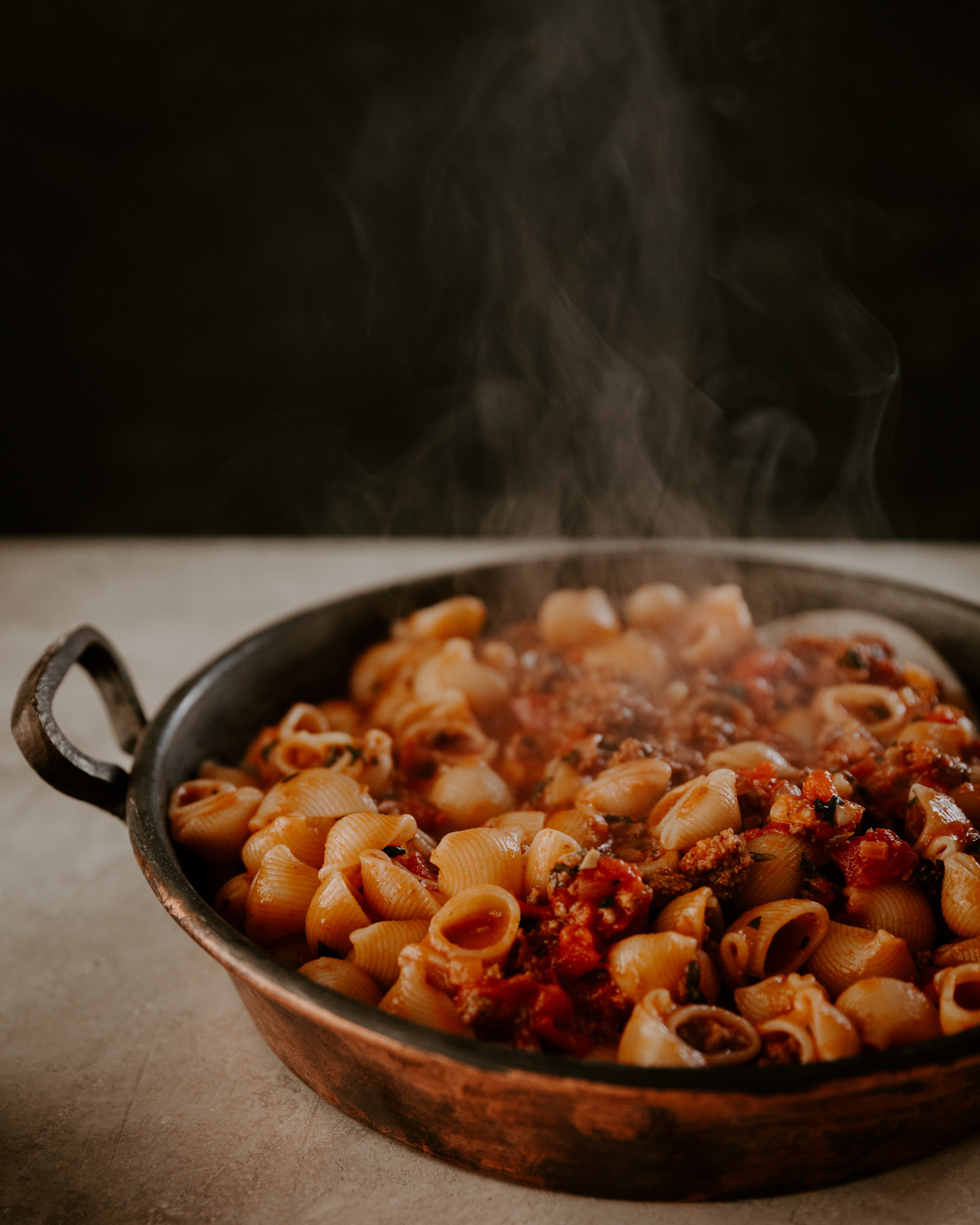 This is a family friendly recipe that comes together in a pinch!
Ingredients
1 box pipe rigate pasta (1 lb.)
1 tablespoon butter
1 small yellow onion, diced finely
3 cloves of garlic, minced
1 lb. ground beef
28 oz. can chunky tomato sauce (I like Muir Glenn)
1/2 cup heavy cream
1-2 heavy pinches of salt
1 handful parsley, chopped
1 small ladle starchy pasta water
Parmesan or pecorino to garnish
Instructions
Cook pasta according to instructions, in well-salted water.
Meanwhile, in a dutch oven or heavy bottom pot, melt the butter over medium heat and cook onion for about 2 minutes or until soft. Add the garlic and cook another minute or so, stirring frequently to not burn the garlic.
Add the ground beef and cook until no pink remains. About 5 minutes, stirring frequently.
Add tomato sauce and cook until it begins to simmer. Stir in the heavy cream and let it come back to a simmer. Salt and mix to avoid burning the bottom. Add parsley, cooking water if necessary, and mix to combine. Cook at a simmer for about 5 minutes.
When the pasta is ready, use a slotted spoon to transfer pasta directly into the sauce. Mix well, serve, and garnish with parmesan and a piece of parsley.
Yield: Serves 4-6
Prep Time:
00 hrs. 05 mins.
Cook time: 00 hrs. 15 mins.
Total time: 20 mins.