Copycat Whole Foods Teriyaki Salmon & Veggie Rice Bowls
The name was getting a bit too long to add "sheet pan", but it's important to note. Other than the rice, everything gets cooked together on a single sheet pan. Hello easy dinner WIN.
This recipe should be bookmarked, printed, added to your menu planner, tattooed on your forehead. Whatever it takes to get this on your weeknight dinner rotational ASAP. It takes all of 20 minutes and feeds your family a delicious salmon dinner on the fly.
I created this meal to replace the Teriyaki Salmon Bowls at Whole Foods. My husband LOVES them and so do I! But I wanted to recreate it at home for a more budget-friendly meal, and as something that could be added to your regular dinner ideas!
If you like to make your own sauces/dressings/marinade as I usually do, I've included my copycat Whole Foods 365 brand teriyaki recipe. You can make it ahead of time and keep it in the fridge until you use it up. This is definitely the most budget and eco-friendly way to do this recipe if you usually stock all of the ingredients. However, don't be afraid to buy the darn stuff from the store either, I do 50% of the time. It just depends on what mood you catch me in. That's part of being Intuitive with eating and meal prep. Don't over do it if you don't want to, and go the extra mile if that inspires you. There's no right or wrong way. It's going to be delicious and totally healthy either way.
One of my favorite grocery store hacks is to buy my shiitake mushrooms presliced. Normally I would not recommend this for both freshness AND price, however…. in this case it's different. Shiitake stems are bulky, chewy, and heavier than their tops, and to buy the shiitakes in full form, well, we're paying to throw half of them away! Sliced is actually a better bang for your buck.
Whole Foods Copycat Teriyaki Sauce
Jennifer Bravo
Published 03/20/2019
This copycat 365 Brand Teriyaki Sauce is perfect for my One Sheet Teriyaki Salmon Bowls, if you're interested in making the sauce yourself
Ingredients
1 cup water
1/4 cup packed dark brown sugar
1/4 cup tamari, soy sauce, or liquid aminos
2 tablespoons liquid sweetener like honey or coconut agave
2 large cloves of garlic, minced
1/2 teaspoon, or about 1
2 tablespoons cornstarch (optional)
1/4 cup cold water (optional)
Instructions
In a small sauce pan, combine all ingredients except for optional cornstarch and water. Over medium heat, bring the mixture to a simmer for about 3 minutes.
If you like your sauce thick and need about 1.5 cups, use the cornstarch slurry to thicken it. Otherwise, you could simmer/boil the mixture down until you get your desired consistency (thick but drippy). You'll just reduce the amount of sauce you end with.
Optional cornstarch slurry. In a small bowl combine cornstarch and water and whisk until combined. Slowly pour the slurry into the mixture, using the whisk to stir frequently as you pour. Let it come together another minute or two. If it gets too thick, add more water to loosen.
Yield: 1.5 cups
Prep Time:
00 hrs. 05 mins.
Cook time: 00 hrs. 05 mins.
Total time: 10 mins.
Whole Foods Copycat Teriyaki Salmon & Veggie Rice Bowls
Jennifer Bravo
Published 03/20/2019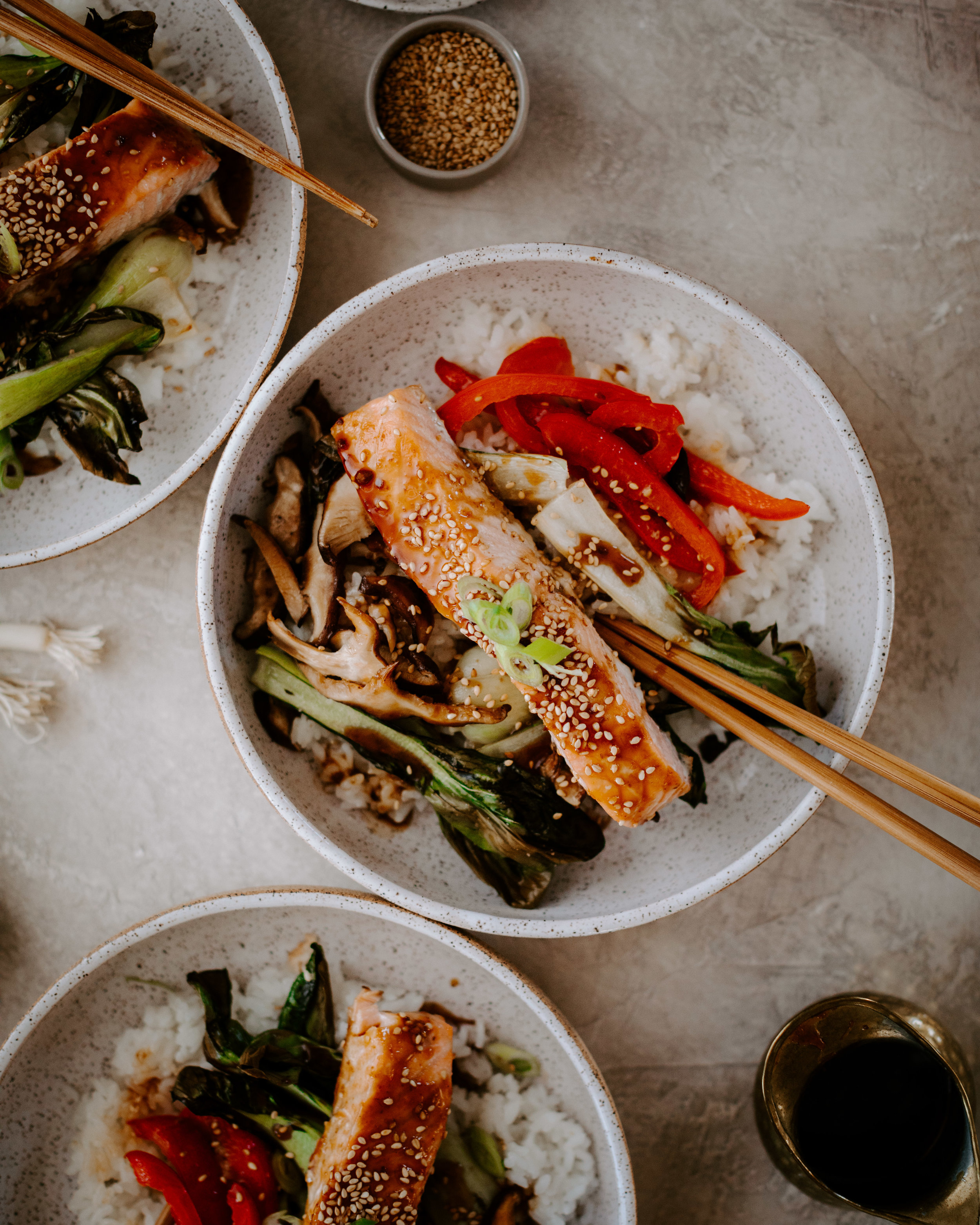 One of our favorite sheet pan, easy weeknight dinner recipes!
Ingredients
4 cuts of 6-8oz Salmon Filets, deboned and skin-on
1 clamshell sliced shiitake mushrooms
1 red bell pepper, cut into thin slices, lengthwise
2 baby bok coy, cut into quarters length wise
1/2 cup teriyaki sauce (see recipe)
2 tablespoons oil
Sesame seeds to garnish fish
Heavy pinch of salt
4 cups of white rice, cooked to package instructions
2 tablespoons rice vinegar for the rice
Sliced green onion to garnish bowls
Instructions
Preheat oven to 350 degrees, and if you haven't already started the rice, do so now. On a parchment lined baking sheet with walls, place salmon slices in the middle of the tray and layer mushrooms, peppers, and bok choy in all around the salmon.
Generously coat the salmon with the teriyaki sauce and sprinkle sesame seeds on top of each salmon filet.
Pour oil over veggies and sprinkle veggies with a heavy pinch of salt. Gently mix, careful not to disturb the salmon.
Place sheet pan in the oven, for about 12-15 minutes, stirring veggies half way through. Feel free to mix some of the teriyaki sauce to lightly coat the veggies at the half way point. Bake until the center pieces of salmon have turned fully opaque up the sides. You can gently poke/squeeze the salmon and it should feel bouncy and tender.
Fluff the rice and add the rice vinegar for flavor and a little sticky texture. In 4 individual bowls, layer 1 cup of rice, 1/4 of the veggies, and 1 piece of salmon. Drizzle teriyaki sauce and garnish with another sprinkle of sesame seeds if you so desire and top with sliced green onions.
Yield: 4 Servings
Prep Time:
00 hrs. 05 mins.
Cook time: 00 hrs. 15 mins.
Total time: 20 mins.